11. MOSTAR BLUES & ROCK FESTIVAL
18.07. – 20.07.2013.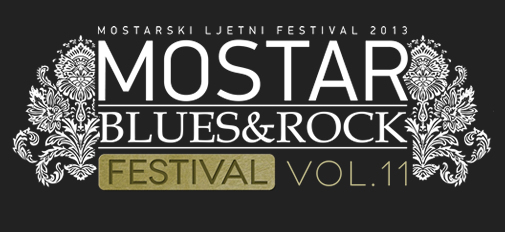 After extensive preparations, the eleventh edition of Mostar Blues & Rock Festival took place. The media as well as the visitors have already pronounced this edition to be the best one so far, both organizationally and program-wise. This is a result of a yearlong preparatory work of the organizing team as well of its decade long experience.
Traditionally, the day before the opening of the Festival, an introductory night was held in Mostar bars and clubs, staging live performances and blues and rock thematic nights.
That same evening, the bikers of Herzegovinian motorcycle clubs and old-timer car owners, have cruised the town to announce the opening of the Festival.
The first night of the Festival was held in Pavarotti Music Centre and was entirely dedicated to the role of harmonica in blues composition.
Intro performance was staged by BH duo Mar Mar Blues, performing blues standards and original compositions with very subtle use of harmonica, followed by Belgrade band Blue Family presenting four harmonica players, most notably Petar Miladinović (Pera Joe). Without many elegiac tracks, Blue Family has offered an excellent concert dynamic bringing audience to dance all the way.
Finally, Sugar Blue with the band took the stage. Sugar Blue is a world renowned harmonica artist, Grammy Award owner, an artist that has worked and recorded with The Rolling Stones among others. Their performance was composed of the most significant blues compositions and original works from their albums, and the audience replied with powerful applauses.
Sugar Blue is the first Grammy Award owner to perform at Mostar Blue & Rock Festival.
The following day, the Festival moved to the big stage, Sport center "Kantarevac".
Mostar based Bad Blues Band Bulevar, an experienced team of musicians performing mostly their original songs has opened the night.
Drugi način, rock veterans from Zagreb, using their well proven recipe performing their most notable songs brought the audience to respond greatly.
According to many, the biggest stars of this Festival edition, a cult band Ten Years After earned ovation the very moment of entering the stage. Formed in 1966 they have acquired worldwide fame with their memorable performance at the legendary Woodstock Festival, and then with a series of successful albums.
Plums of rock of the 60s and 70s - Ten Years After ended their concert with the cult song "I'm Going Home", bringing the atmosphere to the boiling point.
This night of nostalgic rock was closed by Belgrade band Yu Grupa who brought few thousand people to sing along their greatest hits.
This second day of the Festival, a masterclass workshop was held by members of Ten Years After, with the kind support of British Council. Students of Mostar Rock School, among other participants, had the unique opportunity to see these authors in process of creation of compositions, arrangements and to hear most important theories about the techniques of playing blues and rock music.
The final night of the Festival presented the young band from Mostar – PistolEro. Well-rehearsed and using the cello in rock arrangements, they have drawn the attention of those present.
Following, Damir Urban with his band takes the stage and opens the concert with few of the most popular of their songs, bringing audience to sing along. Their performance was labeled with modern and mystical arrangements, in his well-known style.
Guitar virtuoso from Texas, Lance Lopez rises the atmosphere in a great manner using hard-blues riffs, presenting original compositions from their six albums and closing his performance with the song by ZZ Top "La Grange", of course, followed by ovation of several thousand people in the audience.
Belgrade band Partibrejkers rightfully deserved the honor to close a tree-day blues and rock parade. During their performance of an hour and a half, these experienced masters of urban rock had shown why they are positioned at the top of the music scene for decades. Their everlasting hits "Ono što pokušavam sad", "Put za jug" and ""Hiljadu godina" performed in fantastic sharp rock manner made the audience to ask for more and bring them back for the encore.
Program of the 11th Mostar Blues & Rock Festival
July 18th 2013 - MC Pavarotti - Harmonica Stories
Mar Mar Blues (BH)
Blue Family feat. Pera Joe (SRB)
Sugar Blue (USA)
July 19th 2013 - SC "Kantarevac"
Bad Blues Band Bulevar (BH)
Drugi način (CRO)
Ten Years After (UK)
Yu Grupa (SRB)
July 20th 2013 - SC "Kantarevac"
PistolEro (BH)
Urban & 4 (CRO)
Lance Lopez (USA)
Partibrejkers (SRB)
The curtain of the 11th Mostar Blues & Rock Festival is now closed, an event that once again brought eminent names of blues and rock scene to Mostar and Bosnia and Herzegovina, but also a great number of tourists who came to the Neretva valley to attend the Festival.
The preparations for the next edition are already starting. We are truly looking forward to the next edition and hope to once again, along with the support of institutions and partners of the Festival, succeed in organizing a magnificent event.
We are sincerely thankful to the following donors and partners for their great support of 11th Mostar Blues & Rock Festival:
The Royal Norwegian Embassy in BH, US Embassy in BH, City of Mostar, Federal Mnistry of Culture and Sports, Ministry of Civil Affairs, NATO Headquarters BH, Pavarotti Music Centre, British Council, BH Telecom, Herzegovina-Neretva Canton Tourist Board, Federal Ministry of Environment and Tourism and Sports Union of Mostar.
Mostar Blues & Rock Festival Organizing Team