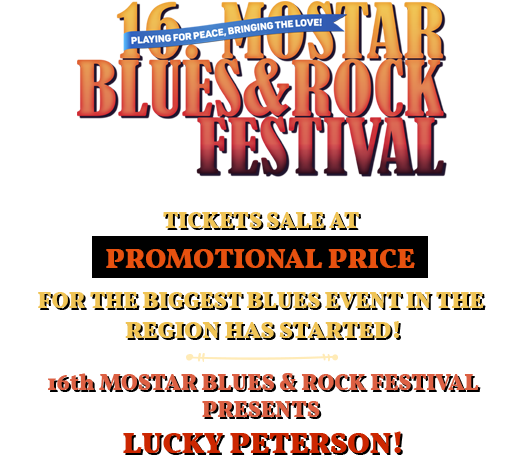 Once again, city on Neretva river is presenting the masters of blues and rock music.
Mostar Blues & Rock Festival is a story that has been rolling over past sixteen years and has presented numerous world-class bands and musicians: Big Brother & The Holding Company, Ana Popović, Snowy White, Ten Years After, Coco Montoya, Dr. Feelgood and many others. This year, besides the American blues star Lucky Peterson, true music lovers will appreciate another six great bands.

16th Mostar Blues & Rock Festival, program:

19.7.'18 – SC "Kantarevac" Mostar
- Freischlader (DE)
- Lucky Peterson & The Organization ft. Tamara Tramell (USA)
- Goran Bare i Majke (CRO)

20.7.'18 – SC "Kantarevac" Mostar
- Mostar Rock School (BiH)
- Zona B (SRB)
- Todd Sharpville Band (UK)
- Električni orgazam (SRB)

Due to the great interest and limited capacity, Mostar Blues & Rock Festival is releasing a limited number of promotional festival tickets at promotional price of only 20KM/10EUR!

Please note that the number of festival tickets is limited and will only be available for purchase during June / until stock depleted.
In the later period, only daily tickets will be available at the higher price.

Tickets are available online through kupikartu.ba network as well as at their branch offices in BiH listed at their website: https://www.kupikartu.ba/page/listaagencija

Note: Festival tickets for purchase in branch offices in Croatia, Serbia and Montenegro can be obtained at price of 15EUR.