Celebrating 100 Years Of The Blues 2003 - "Year of the Blues""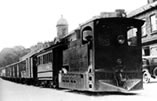 In 1903 on a lonely train station in Tutwiler, Miss., African-American composer William Christopher Handy (better known as W.C. Handy) met a man playing "the weirdest music I had ever heard."
The music was the blues, an African-American art form that has become the most influential form of American root music. So, W.C. Handy is regarded as "The father of the Blues."
In recognition and celebration of that seminal encounter 100 years ago, the U.S. Senate, on Sept. 5, 2002, declared 2003 – YEAR OF THE BLUES (YOTB). Senators Blanche Lincoln (D-Ariz.), Bill Frist (R-Tenn.), Maria Cantwell (D-Wash) and Fred Thompson (R-Tenn) led this congressional effort, which was initiated by Seattle-based Experience Music Project and the Memphis-based Blues Foundation, to bring long overdue recognition to one of America's most important music forms. 2003 also marks the 100th anniversary of African-American composer W.C. Handy's first encounter with blues music. By organizing numerous festivals and concerts whole musical world is celebrating 100th anniversary of blues music existence, one of the oldest music forms in general.
In 2003, probably in the best possible moment, Mostar is joining this celebration by initiating the first international blues festival in Bosnia-Herzegovina.
After a decade and since its eleventh edition, the festival introduces the word rock within its name, thus responding to the evolution of music as well as endeavoring to present great rock names at the festival.
As of initial enthusiasm, Mostar Blues & Rock Festival has grown into a respectable event that has found its way to maps of European festivals and is one of the most significant festivals in the region.
Over the past eleven years, Mostar Blues & Rock Festival presented great names such as Ten Years After, Ana Popović, Big Brother & The Holding Company, Sugar Blue, Snowy White, Dr. Feelgood, Tito & Tarantula, Deborah Coleman, Danny Shephard, as well as regional artists: Majke, Partibrejkersi, Dado Topić & Telephone Blues Band, Josipa Lisac, Zdenka Kovačiček, Vlatko Stefanovski, Yu Grupa and others.
Despite many obstacles, we believe that we have managed to bring this immortal musical form back to local music scene and include city of Mostar to the list of festival cities.
Special thanks go to the U.S. Embassy in BiH, the City of Mostar, the Federal Ministry of Culture and the Pavarotti Music Center, who were with us since the beginning.
Mostar Blues & Rock Festival Organizing Team