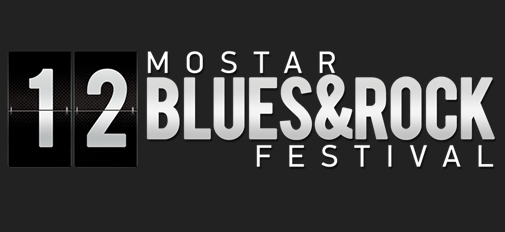 12. Mostar Blues & Rock Festival
16.07. – 19.07.2014.
Continuing the tradition of presenting great authors and bands, 12th edition of the Mostar Blues & Rock Festival has offered eleven memorable concerts. Festival took place at three different locations and has lasted four days.
Following complex organizational preparations program began on July 16th at the open stage of OKC Abrašević, with the concert of young band Birds of Beer. Despite the fact that the band is composed of very young musicians, these Mostar Rock School students showed enviable music-playing skills, particularly in their performances of blues and rock classics, thus receiving excellent reviews from both, audience and the critics.
Next on stage to perform his most significant works as well as well-known covers was the British guitarist Innes Sibun with his band. Their performance is characterized by excellent communication with the audience and unique instrument playing approach.
During their stay in Mostar, they also gave a masterclass workshop for students of Mostar Rock School. Both concert and the workshop were supported by one of the partners of the Festival - British Council.
Following day took place at the Music Center Pavarotti open stage with intro performance by American singer-songwriter Keegan McInroe. This Texas-based musician played his blues tracks and some of the most famous delta blues standards.
After short opening ceremony, Herzegovinian band Vjeka & Electric Blues Project took the stage. Band composed of experienced musicians fronted by Mostarian singer and vocal instructor Vjekoslava Raspudić, heated up the audience with some of the most notable blues and rock classics.
Headliner of the evening was legendary Coco Montoya.
Already at the beginning of his career, this American guitarist had played with Albert Collins and has gained the fame in the institution by the name John Mayall & the Bluesbreakers. Montoya is a left-handed guitarist playing the right handed neck (strings upside down) – a style brought to fame by Otis Rush and Albert Collins.
Accompanied by an excellent band, Coco Montoya offered an unforgettable concert to the audience present – many of which genuine blues admirers.
Friday July 18th Festival's production moved to the big venue of Sport center Kantarevac.
Belgrade's Texas Flood, a band that truly nurtures blues and rock genres featuring excellent guitar solos opened the night and performed a series of blues and rock covers, as well as original compositions from their first album.
As expected, a performance by Vlatko Stefanovski Trio that followed has pleased all guitar gourmands. Rock arrangements, played at irregular beats that Stefanovski continuously uses in his works, left nobody indifferent. In addition to new tracks, band performed some of the biggest hits composed by Stefanovski and his band at the time, famous Leb i Sol.
An excellent introduction for Eric Sardinas, an American slide guitar virtuoso noted for his use of the electric resonator guitar. This controversial artist started to play the guitar at the age of six, as a left-handed player, only to come to fame as a right handed guitarist. He toured the world with Steve Vai.
His concert at the Mostar Blues & Rock Festival, featured a number of excellent original works and Sardinas presented his very atypical and original approach to playing the guitar.
Saturday, July 19th, the final evening of the 12th Mostar Blues & Rock Festival began with a performance by the young band Switch. These are the musicians well familiar with blues and rock techniques and are the first band from Banja Luka to play at the Festival. They presented themselves with very demanding repertoire consisting of classics by Stevie Ray Vaughan and Jimi Hendrix.
The atmosphere additionally heated up by Atomsko Sklonište, a legendary band from Pula whose albums "Ne cvikaj generacijo", "U vremenu horoskopa", "Extrauterina", "Mentalna higijena" among others were an integral part of musical collections of generations of rock followers.
Although performing as trio, they succeeded to offer a great show and remind the numerous audience of the glorious period of this rock band.
The final concert of the Festival was performed by Tito & Tarantula.
This band, led by Tito Larriva rose to world-wide fame for its role in Robert Rodriguez's film From Dusk Till Dawn as the band performing at the "Titty Twister" nightclub.
They opened their concert with dynamically slower songs, gradually introducing their greatest hits and continuously flirting with the audience. Concert reached its peak with the performance of legendary After Dark when they invited the audience to dance on stage.
Hosting great guitarists such as Innes Sibun, Coco Montoya, Vlatko Stefanovski, Eric Sardinas and Tito Larriva, we can conclude that 12th Mostar Blues & Rock Festival was entirely dedicated to the role of the guitar in blues-rock music.
Twelfth edition of Mostar Blues & Rock Festival was supported by: US Embassy in BiH, The Royal Norwegian Embassy in BiH, USAID/SIDA FIRMA project, City of Mostar, Ministry of Civil Affairs, Federal Ministry of Environment and Tourism, Pavarotti Music Center, BH Telecom, Herzegovina-Neretva Canton Tourist Board, British Council, Hotel Bristol and Sports Union of Mostar.
Media partners: BHRT, Europlakat, RDV, Dnevni list, Bljesak.info, Studio 88 and Radio Sarajevo.
12. Mostar Blues & Rock Festival
Program
15.07.'14 – Blues Corners
Live performances, concerts, projections
16.07.'14 – OKC "Abrašević" – 21h
Birds of Beer (BiH)
Innes Sibun & Band (UK)
17.07.'14 – MC Pavarotti – 21h
Keegan McInroe (USA)
Vjeka & Electric Blues Project (BiH)
Coco Montoya (USA)
18.07.'14 – SC "Kantarevac" – 21h
Texas Flood (SRB)
Vlatko Stefanovski Trio (MK)
Eric Sardinas and Big Motor (USA)
19.07.'14 – SC "Kantarevac" – 21h
Switch (BiH)
Atomsko sklonište (CRO)
Tito & Tarantula (USA)
Mostar Blues & Rock Festival Organizing Team