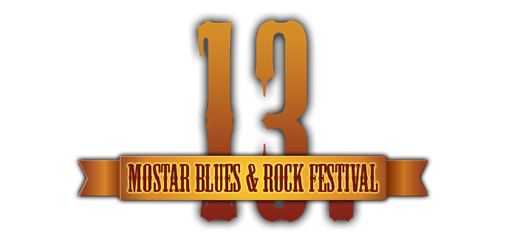 13th MOSTAR BLUES & ROCK FESTIVAL
Due to the reconstruction of Sport Center "Kantarevac", Mostar Blues & Rock Festival big venue,  this year the festival programs were conceived for smaller venues and implemented in Pavarotti Music Center and OKC "Abrašević".
13th Mostar Blues & Rock Festival has presented nine bands performing both, traditional and modern blues and rock music.
Program started on Thursday, July 16th at noon with the workshop by legendary British band Nine Below Zero. The workshop was open to all those interested in their particular approach to blues/rock genres, as well as their fruitful career and blues in general.
That same evening, the 13th Mostar Blues & Rock Festival opened its gates with the sounds of acoustic blues by Texas based musician Keegan McInroe.
The youngest participant of the Festival, a ten-year old Zara Aksoj with the support of her father Atilla on acoustic guitar, performed  "Fly Me To The Moon" and captured the hearts of the audience.
After short opening ceremony, Rock School Blues Band took the stage and left nobody indifferent. This young representatives of Mostar Rock School performed brilliant versions of blues and rock classics and the final song "With A Little Help From My Friends" brought many to tears.
Next band on stage was London blues/rock band Nine Below Zero formed back in 1977. They published as many as 21 albums, they toured with The Kinks and The Who, Gary McAvoy the bassist of Rory Gallagher had spent significant period playing in this band. A great selection of repertoire and dynamic interaction with the audience shook the atmosphere bringing it to the peak with the memorable performance of "On The Road Again".
Mike Zito, the American guitar player, singer, songwriter and producer, with his band The Wheel secured fantastic closure of the first festival evening. They performed a concert which was true insight into the atmosphere of American South, greatly supported by the sounds of saxophone by Jimmy Carpenter.
Jolly Jumber & Big Moe, a blues duo from Norway was the one to open the second festival night. Their acoustic versions of both, original and cover songs were true reminder of early origins of blues.
Next on stage were Gruhak, a Croatian band from Dubrovnik with extensive performing experience. This band is a true proof that one can live of rock'n'roll even in our region. Their performance of the most famous rock covers from the times of Led Zeppelin onwards in combination with well-arranged original compositions, were warmly welcomed by the audience.
The Finale of the evening featured Blues Company, a German band formed in Osnabrück back in 1976. Throughout their career, they have recorded 30 albums and have been practically continuously playing concerts. Critics simply wrote about them: "This band is hot!"  Their concert at the Mostar Blues & Rock Festival was definitely hot, played in steady and dance rhythm, greatly accepted by the audience.
The final Festival evening on July 18th at OKC Abrašević was introduced by Belgrade's Night Train Blues Band. Great vocals, music playing skills, clever use of the harmonica in their song arrangements were the qualities of their excellent performance at the 13th MBRF.
Delta Blues Gang, a band from Pula was next to take the stage. This band has three albums; they participated at the European Blues Challenge and have even played concerts in US. Their performance was characterized by excellent use of slide guitar and superb vocals and was exceptionally attractive both, musically and visually.
The final concert of the 13th Mostar Blues & Rock Festival was played by French band Big Dez. In addition to harmonica, they also use brass section, so their versions of rhythm and blues instantly moved everybody's feet. Great version of the song "White Room" by Cream rose great enthusiasm among older rock fans.
13th Mostar Blues & Rock Festival was supported by: US Embassy in BiH, The Royal Norwegian Embassy in BiH, City of Mostar, British Council, Pavarotti Music Centre, Ministry of Civil affairs, Federal Ministry of culture and sports, Herzegovina-Neretva Canton Tourist Board, BH Telecom, Hotel Bristol, Mostar Rock School, RDV, Dnevni list, Bljesak info, BHRT, BH Radio, Radio Sarajevo, Europlakat, Ožujsko pivo, Kriterion.
See you at the 14th edition!
Program of 13th Mostar Blues & Rock Festival:
MC Pavarotti, 16.07.2015.
Rock School Blues Band (BiH)
Nine Below Zero (GB)
Mike Zito and The Wheel (USA)
OKC "Abrašević", 17.07.2015.
Jolly Jumper and Big Moe (NOR)
Gruhak (CRO)
Blues Company (GER)
OKC "Abrašević", 18.07.2015.
Night Train Blues Band (SRB)
Delta Blues Gang (CRO)
Big Dez (FR)
MBRF Organizing team