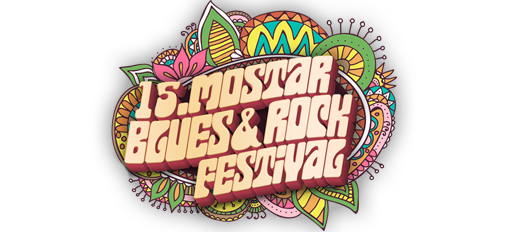 15th MOSTAR BLUES & ROCK FESTIVAL
Pavarotti Music Centre, July 21st – 22nd, 2017
The concept of the 15th edition of Mostar Blues & Rock Festival was to mark the fiftieth anniversary of the social phenomenon that occurred during the summer of 1967 – The Summer of Love.
With its message "Playing for peace, bringing the love!'", musical program, stage setting and other visuals, 15th edition of Mostar Blues & Rock Festival promoted messages of peace, freedom, music and love.
Opening act was performed by Mostar Rock School Band, the youngest participants of the Festival. They presented the repertoire that was entirely dedicated to the Woodstock Festival - the most important festival of this movement, performing the songs that marked this historic concert.
Next on stage was band from New York: Jane Lee Hooker Band. Five ladies with their excellent stage presence have offered an exquisite concert. Besides original compositions, they performed some of the blues / rock classics as well.
The final concert of the night was played by the band from Serbia Kepa & Free Spirits. The band was formed by the legendary drummer of Smak, Slobodan Stojanović Kepa.
With reminiscence of Smak, but with new arrangements, they performed songs that marked an important and specific music period in ex-Yugoslavia. Flirting with jazz/blues fusion, they offered a new interesting sound of Smak that was warmly welcomed by the audience.
Next day the program started with a feel of club atmosphere, but with a legend on the stage.
Mick Clarke is a British blues player who has been playing since 1968 and has performed with names such as Freddie King.
With his band on stage, he took the audience on the voyage from the beginnings of blues, the blues that was played in clubs, to the maestral blues & rock performances played at the big concerts. We've heard his most significant original works, as well as the famous blues / rock standards.
One of the goals of the Mostar Blues & Rock Festival is to introduce newcomers and give them the opportunity to share the stage with great names of the blues & rock music scene. Malter Ego, a band from Mostar has recently released their first album and we consider it to be very important moment for any band. In addition to being great musicians, they surely justified an invitation to play at the Festival with their energetic performance.
The band to close the festival was Croatian band Kojoti. Well known to all the fans of "Fiju Briju" movement from 1990s, they were one of the leaders of the rock scene of that period. They returned on stage after long silence of seventeen years and this was their first concert in Bosnia and Herzegovina. Already after their first song, it was clear that they were just as energetic and fierce as ever. It is certain that they have offered one of the most memorable concerts at crowded Pavarotti Music Centre.
Organizing team would like to thank all the partners and supporters of 15th Mostar Blues & Rock Festival.
Greetings until 16th edition!

MBRF Organizing team