4th INTERNATIONAL MOSTAR BLUES FESTIVAL
10.07. - 13.07.2006.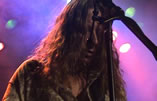 The 4th International Mostar Blues Festival was held at the Pavarotti Music Centre from 10 th to 13 th of July 2006. To make a parallel to previous years, when the Festival started, it is obvious that, regarding its organization and program, this event gradually grows into the European music event. During a technical preparation, we had a problem with rainy weather, which caused a lot of problem with the stage and equipment. The day before the Festival started, storm wind demolished the stage and damaged some equipment. The rain did not allow us to keep on schedules for PA and light system testing. But, it was raining on legendary Woodstock Festival, too and beside that it became the most important festival in history of music.
It seems that the rain during MBF was sign for top class music performance. After the official opening ceremony, the first performer Marin Zadro alias One Man Guitar performed few well-known blues classics , starting with Jimi Hendrix "Hear My Train Coming" to Rory Gallagher blues works. But, the most important was that Marin has introduced his own compositions very well received by the audience.

It became almost as a tradition that some of the local musicians, blues fan, are setting up the blues bands especially to perform at the Festival. The Blues News band was set up on that way by the local blues musicians. They gave top class performance and received special credits from American Blues musicians.

The Organisational Team efforts to bring one of the best American blues musicians, Danny Shepard gave the results. Danny Shepard & Friends performance attracted a huge attention on the first Festival day. Danny Shepard was awarded 4 times as the best blues vocal of Florida and it is almost impossible to find a famous music name he did not make cooperation with.
Danny Shepard & Friends concert in hard blues manner presented their expertness in live performance.

On second Festival day we organised the drum workshops led by Innes Sibun Band drummer. For that day people were looking for extra tickets as Mostar Sevdah Reunion and Ljilja Buttler Petrović had a performance. They gave a three hours concert performing a repertoire all the time backed up by the audience. They were called up three times on bis. That was a night of the Blues from South of Bosnia and Herzegovina, as the western music experts titled their music like that. The last Festival day, again after the rain, as a first performer on the stage were acoustic guitarist Koća and saxophonist Mr. Chemistry, duo from Split that presented themselves trough repertoire starting from period of delta blues to modern blues expression. Unusual synthesis of these two instruments proved as a very successful.

Band "Šinobusi" from Novi Sad (Serbia) once again confirm theory that young bands can offer very good performance. One hour of energetic, urban blues with excellent arrangements and skilled used harmonica is the best evidence that in incoming years "Šinobusi" will offer a lot of good music. British guitarist Innes Sibun and his band performance was simply a holiday of blues. From the musician who cooperates with Robert Plan we expected exactly that. Virtuoso's solo parts backed up strongly by the band, often played in the middle of audience were superiority of this performance. It was a blues from the bottom of the soul and we do hope to see Innes again in Mostar. 

We have to give all compliments to sound engineers who put maximum efforts to have such a good sound all three Festival nights.
Also, special thanks to all sponsors and others who help us to organize this Festival. Organisational Team would like to give special compliments to Emir Bukovica for all support and efforts he has put in realization of Danny Shepard concert.
Video clips produced by EUPM "Chose life- not drugs" were broadcast during the Festival and ticket income was donated to Association of parents in fight against addiction.