5th INTERNATIONAL MOSTAR BLUES FESTIVAL
12.07. - 21.07.2007.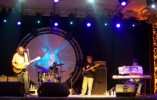 After demanding preparation, 5th MBF started on July, 12 with seven days movie show about the Blues. Movies document period from the beginning of Blues in the Valley of Mississippi up to development of the modern Blues expression originated in Chicago.

Regarding the fact that these movies were directed by the world-known directors (Scorsese, Eastwood, Wenders, etc.), they been announced, with all credits, as the best movies about the Blues ever.

Concert's program started on July, 19 at the Pavarotti Music Centre. Concert titled On The Stage presented young Blues forces performing together for the very first time. This kind of session is almost forgotten way of communication between musicians but it improved as direct hit motivating lot of them to come on the stage and present their capabilities. Of course, this achievement made the organizational team very happy as the original aim of the Festival is to present young bands and musicians.

The day after, again at the Pavarotti Music Centre, audience enjoyed in the performance of Zana Mesihovic and The Band, bringing up together musicians from Sarajevo, Mostar and Sweden. In unplugged formation they performed few Zana's personal compositions as well as few blues standards.

Afterwards, Miroslav Evacic Trio (CRO) gave the brilliant performance. Immediately after first few accords, ethno music influence was obvious as well as very special vocal expression. Expression on tambura and slide guitar backed up by the saxophone and bass guitar, awarded several times by the audience applauding, resulted with very relaxed atmosphere and the audience satisfaction motivated with something completely different from urban and electronic stage. Just to make a note, Miroslav Evacic was awarded with Porin for the last year and his performance will have its place in audience memory for a long time.

But, the highest interest was for the third Festival day, July 21 which took place on the Spanish Square. The best PA and Light system was set up for this occasion and the staging was rented from the very well known Sarajevo Jazz Festival.

Few minutes after 9 p.m. Marin Zadro, young artist presented as The One Guitar Story, started his performance on acoustic guitar performing R. Gallaghera and J. Hendrix

Around 10 p.m. on the stage showed Snowy White Blues Quartet: Darren Abraham - drums, Kuma Harada - bass guitar, Sam Vernon Beste - keyboard and Snowy White - guitar and vocal. Media titled this concert as "The huge music magic in Mostar". Snowy White guitar expression reminded on the best days of Peter Green, Pink Floyd, Roger Waters as well as his own authorship achievements. The top-level control over the dynamics and creativities in arrangements, especially in guitar's lines turned up this concert in a real music dream that Mostar has not a chance to dream about.

After two hours of magic, the lights of 5th Mostar Blues Festival turned down.

5th Mostar Blues Festival was supported by: City of Mostar, US Embassy in BH, Federal Ministry of Culture, Cantonal Ministry of education, culture and sport and Pavarotti Music Centre.

Media sponsors were: RTV Mostar, Radio Dobre Vibracije, Black Sun Production and portals 24sata.info and Vjesnik.info.