6th INTERNATIONAL MOSTAR BLUES FESTIVAL
21.07. - 23.07.2008.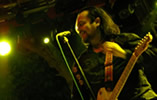 In a period from July 21 to July 23 was held 6th Mostar Blues Festival introducing good bands, lot of good music, audience in a good mood and the rain.

The news of this year Blues Festival is start up of the Rock stage with attention to return on BH stage and to a young generation this immortal music form which is in a way child of Blues.

Traditionally, first nigh was held at the Pavarotti Music Centre.
Texas Flood from Belgrade, opened first night and animated huge number of audience with skillfully selected repertoire.
Cleverly combining their own and composition of great blues masters, Texas Flood was awarded with audience ovations.

After them performed band King George & Bosnia Express introducing rhythmically more peaceful performance, but presence of King George, man who performed together with Janis Joplin and Jimi Hendrix was more then enough for the audience to enjoy the performance.

Second Festival day was held on platform under the Old Bridge, one of the most attractive locations in BH.
BH band Ball and Chain performed first as a part of new Rock stage within Blues Fest. They ended up with anthological masterpiece Smoke On The Water, which was more then good to warm up the audience.
After then performed Harpoon Boogie Blues Band from Split (Croatia) performing the repertoire starting with Chicago blues school and ending up with music direction from this area. Skillfully used harmonica within the performance animated the audience.
And the great finale, Goran Bare & Majke, two hours of pure, sincere rock and fascinating charisma one of the best, we are free to say, European front men.
Beside very cold weather, everybody present on Neretva bank, that night sang all songs together with Bare & Majke.

The last Festival day started with the performance of Don Guido & Misionari from Sarajevo.
Interesting music arrangements combined with excellent guitar pieces, skillfully added percussions and good vocals are the best introduction of their performance.
Appearance of planetary popular band Tito & Tarantula on the stage caused frenetic excitement of audience.
They performed timeless hits from cult movies they recorded soundtracks as well as new compositions from their latest CD.
In a one moment around 30 people from the audience invited by Tito showed up on the stage and sing and dance together with the band. That kind of atmosphere and great performance excited several thousand people.
Mostar Blues Festival Organizational Team believes that the original Festival ides have been achieved, presentation of young bands and progress in festival program are better and better from year to year.

6th Mostar Blues Festival was supported by: City of Mostar , US Embassy in BH, Federal Ministry of culture and sport, Pavarotti Music Centre, Federal Ministry of Civil Affairs, Hypo Bank, Heineken, Sarajevski Kiseljak and Sarajevo Osiguranje.
Media sponsors: Radio dobre vibracije, RTV Mostar, Pincom, 24.sata.info and vjesnik.info. Mostar Blues Festival Organizational Team would like to thank to everybody who supported realization of this international event.