7th INTERNATIONAL MOSTAR BLUES FESTIVAL
220.07. - 22.07.2009.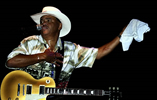 7th Mostar Blues Festival was held in a year of world crisis and recession.
During a period of negotiations with sponsors and due to artist's timeframe in some moments the Festival sustainability was questionable.

The Festival was officially opened and welcomed by the representatives of the US Embassy, City of Mostar and organizers.

After the opening, first Festival's night started with dancing. Young dancers form different Mostar dancing clubs introduced interesting choreographies on the origin blues standards. This performance was idea of the US artist and dance instructor Ashley Fargnoli.

After dancers, young Mostar singer Anja Rikalo performed excellent Etta James's blues version. It is interesting that she has performed with no music backup improving her high vocal capacity.

The audience impatience ended when American guitarist Robert Sherman and Blues Move Band showed up on the stage. Sherman was born in Louisiana, music experience had in Texas, so the audience had the opportunity to hear very interesting synthesis of the traditional and the Chicago Blues School. Sherman's repertoire put up together his most important works as well as Blues standards. Blues Move band back him up perfectly.

It became a rule that the American artists performance on Mostar Blues Festival gives special dimension to it.
Second Festival's day, after the video broadcasting of American Folk Blues Festival, performed Dado Topic. In the begging, alone with his guitar, he performed few blues songs confirming once again that he is No. 1 within a group of ex-Yugoslav rock and blues singers. After Dado's solo performance, a band Time After Time joined him on stage.

They presented the most important songs of the band Time as well as songs from Dado's solo career. MBF Organizational Team gave him a sculpture, artwork of Esad Brkic from Mostar, with complementary for his 45 years of successful career.
Dado Topic's concert should not be missed ever.

Counting interest of whole region for unplugged version of Bare&Majke, number of audience enjoying their performance, media titled third night "The Pearl of the Festival".

In a burning atmosphere Majke's fans literally sang every single word together with Bare and extremely good-humored Majke proved once again why they are the most wanted rock band nowadays. Perfectly applied slide technique on acoustic guitars, carefully used dynamics and life experienced and honest lyrics composed by Bare meant to everyone present unforgettable night.

7th Mostar Blues Festival was supported by: US Embassy in BH, City of Mostar, Federal Ministry of Culture and Sport, Ministry of Civil Affairs, MC Pavarotti, Hotel Ero, Vila Vienna, Radio Good Vibration, 24sata info, bljesak.info, Herzegovina biker's clubs, RTV Mostar and Dnevni list.

Special thanks to all sponsors!